Want even faster installation? Esdec can make it happen thanks to their new, revolutionary pitched roof mounting system! The super strong ClickFit Evo is made up of only 4 base components that let you mount all commonly used solar panels on any tiled roof or steel roof.
Mounting rail
The aluminium material and hollow chamber technology make the mounting rail extremely lightweight and strong. This enables larger spans and makes the mounting rail easy to handle on the roof. This mounting rail comes in various standard lengths.
Universal module clamp
This clamp is intended for all solar panels with a frame thickness of between 30mm and 50mm. Thanks to the smart design, it can be used as a fastening clamp between panels and – in combination with the end cap – as an end clamp. This module clamp is made of high-grade steel with a special Magnelis coating for optimum corrosion resistance.  These clamps come with theft-delaying screws and are available in black and grey.
Universal roof hook
The roof hook is steplessly height and width adjustable, meaning that it can be used for any possible roof tile/roof plate combination. But there is more:
This strong roof hook in combination with the clever load distribution minimises the risk of tile breakage and leaks.
With the self-aligning click fastening, installation could not be any easier.
And the integrated cable management system lets you neatly and safely tuck away cables and connectors.
If necessary, the roof hook can be screwed to the roof.
The ClickFit Evo universal roof hook is made of high-grade steel with a special Magnelis coating for optimum corrosion resistance.
The Magnelis coating comes with self-healing protection (also along the edges). This means that possible corrosion (red rust) will slowly make way for white rust. This white rust will ultimately provide protection against corrosive reactions on the exposed edges.
End cap
The end cap ensures an attractive-looking and impeccably finished whole, as well as windproof sealing of the mounting rail. The end cap is made of high-grade plastic composite and, therefore, able to resist long-term exposure to sunlight and other weather conditions. This product is available in black and grey.
Steel roof & corrugated roof
ClickFit EVO Steel Roof and Corrugated Roof makes installing solar panels on steel and corrugated roofs quick and easy. This convenient mounting system is made up of only 4 components and offers universal compatibility. It lets you install all commonly used solar panels on any steel or corrugated roof.
Accessories
Besides these 4 basic components, Esdec has developed a number of handy accessories such as the coupling (to couple the mounting rail), the cable clip (for easy tying together of string cables and installation of microinverters / power optimisers), the rubber pads (for hook stability on the roof tile), and the mounting aid (for easy mounting and safety on the roof)
Esdec
ClickFit Evo is a product by Esdec, one of the Netherlands' largest manufacturers of construction material for solar panels. Esdec's products have been subjected to thorough testing by renowned safety and quality inspection institutes such as TÜV Rheinland and come with a generous 20-year warranty.
Getting started with ClickFit?
With the Esdec calculator, you will have your project calculated in no time. If you are having trouble figuring it all out, simply get in touch with us, we'll be happy to help!
Clickfit Evo
ClickFit EVO Portrait
ClickFit EVO Landscape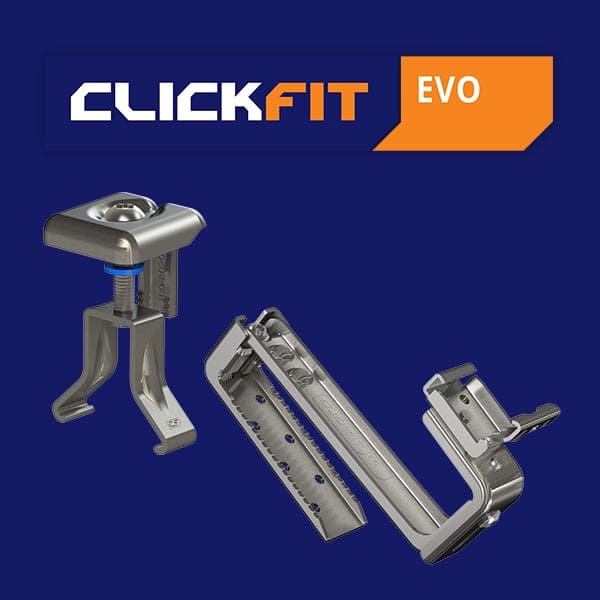 Log into the Natec Client Portal to view the products and place your order