The GoodWe Smart DT series comprises the smallest three-phase inverters up to 10K. These GoodWe inverters are fitted with an extra-large user-friendly LCD screen and 2 MPPTs. The following inverters from the Smart DT series are available: GW4000-DT, GW5000-DT, GW6000-DT, GW8000-DT, GW9000-DT, GW10KN-DT, GW12KN-DT, and GW15K-DT.
Inverters from the  Smart DT series come with a DC switch as standard. Depending on your needs, you can order separate WiFi or LAN communication modules with your GoodWe Smart DT inverter. The product warranty is for 5 years and can be extended to 10 or 15 years.
GoodWe + Tigo
When you add Tigo optimisers, you can optimise a specific part of a solar energy system. To make it possible for Tigo optimisers and GoodWe inverters to communicate, GoodWe has developed an inverter with an integrated Tigo CCA. The CCA (Cloud Connect Advanced) is a compact and powerful datalogger that enables connection to the cloud and monitoring software. Read more about Tigo
GoodWe inverters with integrated CCA are available for inverters from the DNS and DT series up to 10K. When combined with the TAP (Tigo Access Point), Tigo optimiser data can be read in the GoodWe monitoring portal, providing an overall view of all information of the solar energy system in one portal. Want to find out more about GoodWe in combination with Tigo?  Please contact us on info@natec.nl or call +31(0)73 684 0834.
Product range
Besides the Smart DT series, Natec also has the NS series, D-NS series, DT series, MT series and XS series available.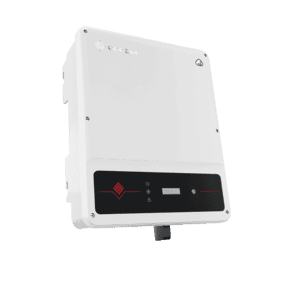 Log into the Natec Client Portal to view the products and place your order